Welcome to our career site!
Join the #Refolution


Check our open positions and join the #Refolution to make refurbished electronics mainstream. We are constantly hiring new talents who are brilliant at what they do!
Our values highlight who we are and how we accomplish our mission
Endless Optimism: We make things possible beyond what is achievable today. We strive for tomorrow. We are relentless in searching for the right answers.
Highest Standards: We are constantly seeking better ways of doing things and challenging ourselves to learn and grow. We are never complete.
Customer Focus: We always focus on the biggest impact and end result, over any volume of activity. We take ownership – when we see something is broken, we make sure it gets fixed. We ensure our decisions are taken with our customer in focus.
Connect: We are diverse, equal, and inclusive. We start by assuming the best. We are direct and transparent. We grow, celebrate, and have fun together.
Recruitment process
Nothing would make us happier than inspiring you to apply for an open vacancy at Swappie! We are going through applications constantly and we aim at informing everyone within a week from the application deadline on how we shall proceed.

We keep you posted on your application by email and phone.

A few good reasons why you would like to join us
Become a part of our global team

We are a diverse group of skilled, ambitious, fun, kind, laid-back, and professional people of 69 nationalities - our offices are located in Helsinki, Amsterdam, Tallinn, Leipzig and Brussels. And as you have probably guessed, our working language is English.

Make a difference

By refurbishing smartphones to the highest standards, we reduce environmental waste, empower our customers to make more sustainable choices, and build a better tomorrow. Being part of the solution, not part of the pollution drives us every day.

Be a part of our culture of trust

We have plenty of freedom and responsibility that we use in the best interest of Swappie. We share information, learnings, insights, plans and achievements as we know that we are all in this together.

Learn and grow like never before

We offer a wide range of development and growth opportunities and encourage our people to seek new ways to improve constantly.

Be yourself

Our Diversity & Inclusion Manifesto guides our daily working and collaboration with team members: we create a diverse and inclusive workplace where we have equal opportunities to grow and feel safe. We respect varied backgrounds, experiences, races, ethnicities, religions, genders, gender identities, gender expressions, and sexual orientations.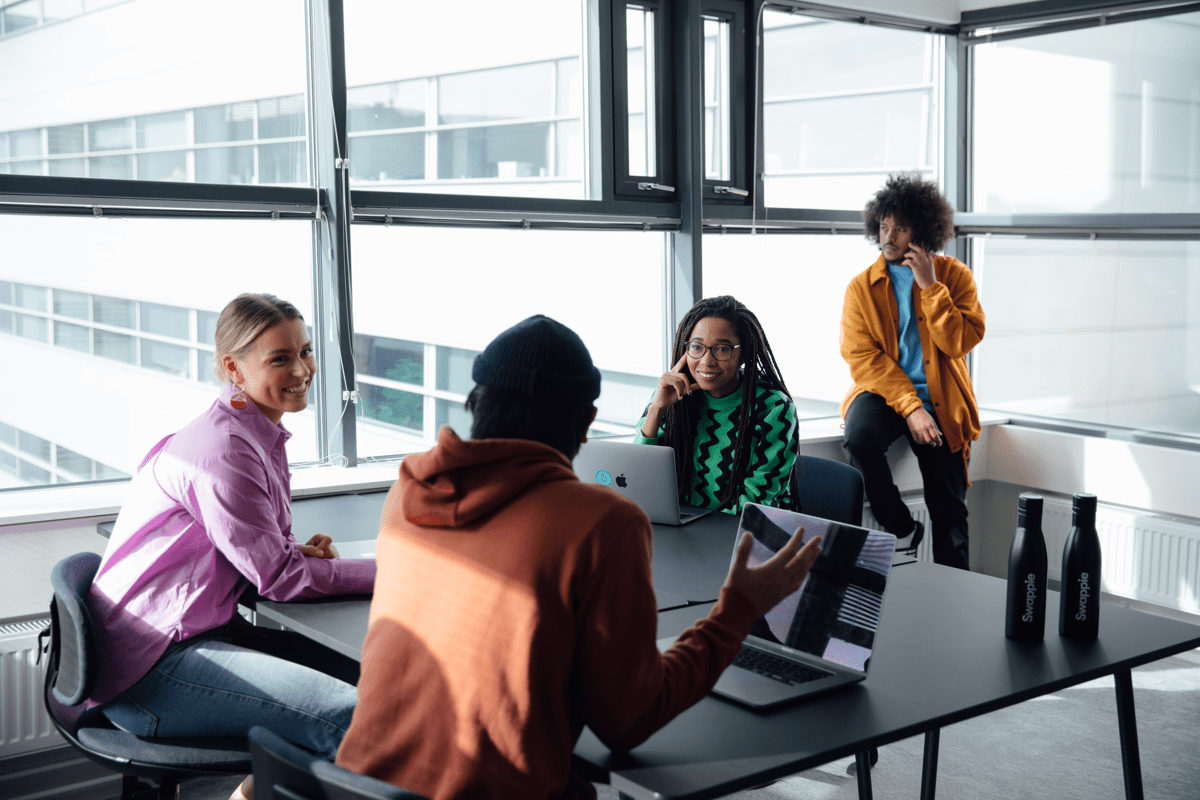 Diversity, Equity, and Inclusion
Swappie takes pride in having a talented team from all corners of the world. We are 1 500 people from +60 nationalities who all share the same mission to make refurbished electronics mainstream.
Diversity, equity and inclusion is an integral part of our culture, and closely integrated with our value connect. It's at the same time our reality and our journey towards a workplace where everyone feels safe and genuinely respected as the true selves who they are with their diverse backgrounds, experiences, races, ages, ethnicities, religions, genders, gender identities, gender expressions and sexual orientations.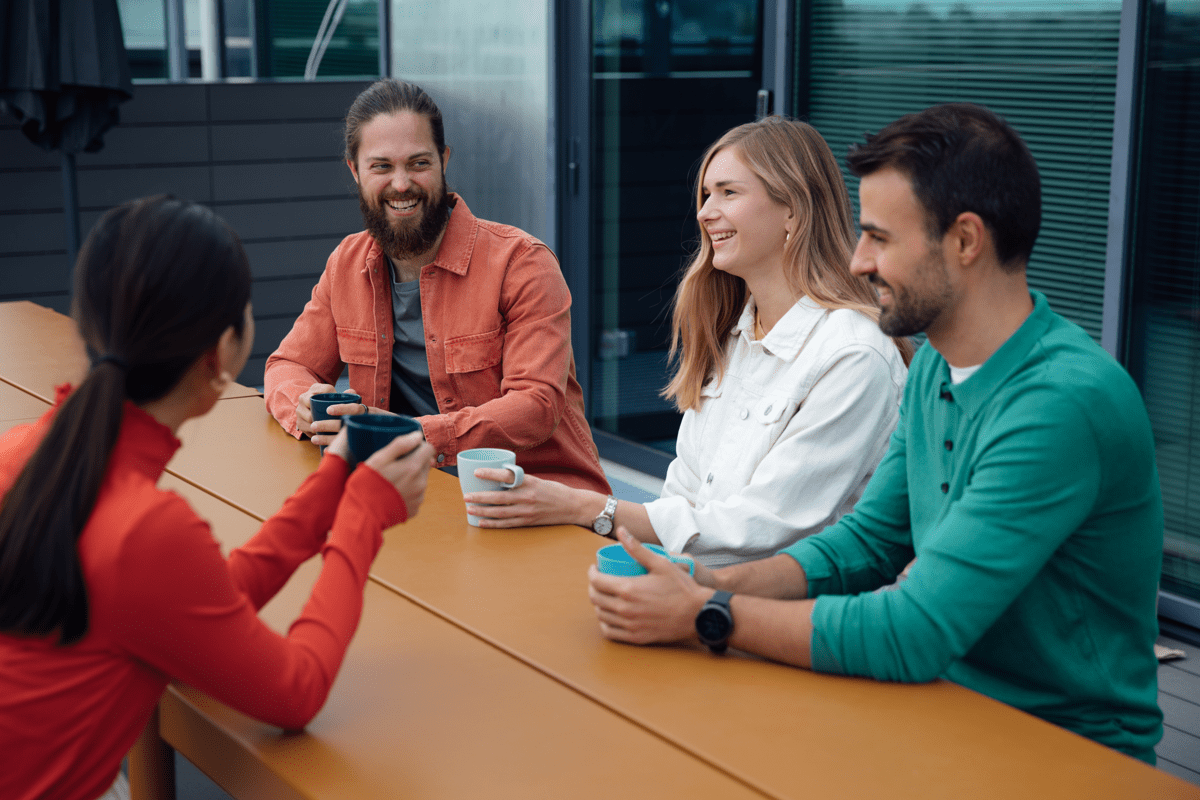 "We are committed to creating the best workplace for all our people – not just the majority of us."
We are looking to make diversity, equity and inclusion our superpower. This will help us feel safe, respected and have a sense of belonging for who we are. But not only that. It also unlocks our ability and willingness to solve problems, thrive, innovate and build a more sustainable and profitable business."
Sami Marttinen, CEO and Co-Founder of Swappie
Our Diversity, Equity and Inclusion Strategy are built upon four pillars: increase awareness, boost belonging, hire inclusively and ensure equal opportunities. Our aspirations are high, and we still have a lot to do. Knowing that we can learn and get better every day keeps us excited and busy to pursue our strategy.
Building a diverse, equal and inclusive workplace is about having the right awareness, tangible commitment and most importantly, wise decisions and actions to make change happen. It's also about the excitement to discover new and get better every day.
We increase awareness

We provide training, events and workshops to help everyone build and enjoy a diverse, equal and inclusive workplace. We also give tools and guidelines so that our people know what to do if things go wrong.

We boost belonging

We develop our culture and leadership to support inclusion and belonging. We measure regularly how our people are doing and improve constantly. We encourage our people to create communities to strengthen the feeling of support and belonging. And yes, as diversity and inclusion make our lives more joyful and interesting, we organize cultural celebrations throughout the year.

We hire inclusively

As we know that it all starts with hiring, we develop communication, models and practices to attract, hire and onboard diverse talent. We also focus on internal hiring to support career growth and development.

We ensure equal opportunities

Hiring and onboarding diverse talent is far from being enough. We want to be an equal opportunity employer and ensure that everyone has fair and equal chances to thrive and grow based on performance and competencies. Here we focus on pay equity, promotions and internal rotation.
About Swappie
Swappie is the no. 1 online destination for buying and selling refurbished smartphones in Europe. Since launching in 2016, we have grown to more than 1 300 talent and €100M annual revenue. And this is just the beginning! We empower our customers in 15 countries to choose environmentally friendly and affordable ways to upgrade their smartphones. Buy smart, not new; that's how we change consumer behavior in Europe and soon worldwide.
Our core values are endless optimism, the highest standards, customer focus, and connect. They guide us in the decisions and actions we take every day.
Our successful model and ambition in solving important sustainability challenges are being continuously recognized by international sustainability and start-up awards, including being listed by Financial Times as the fastest-growing company in Europe, the Finnish Innovation Fund's award for contribution to the circular economy and appearing on Wired's list of hottest startups in Helsinki.

Sounds like the place for you? Join us! 🚀